Just picked this up around the corner at the local music store when I went to pickup some blank 12" record jackets:
A really interesting album, not the least having Oscar Pettiford playing bass. Most of the songs are Jazz/Blues renditions of either Milt Jackson's or Ray Charles' compositions, but the most interesting thing is that Milt Jackson not only plays the usual vibes, but also plays piano and guitar, while Ray Charles plays the usual piano as well as alto saxophone; sometimes switching to several instruments during the course of a song. Real interesting to hear how Milt Jackson can take a bluesy Ray Charles song and turn it into Jazz while Ray Charles takes a Milt Jackson tune and turn it into a blues.
Also, got a new shipment of $1 LP's today: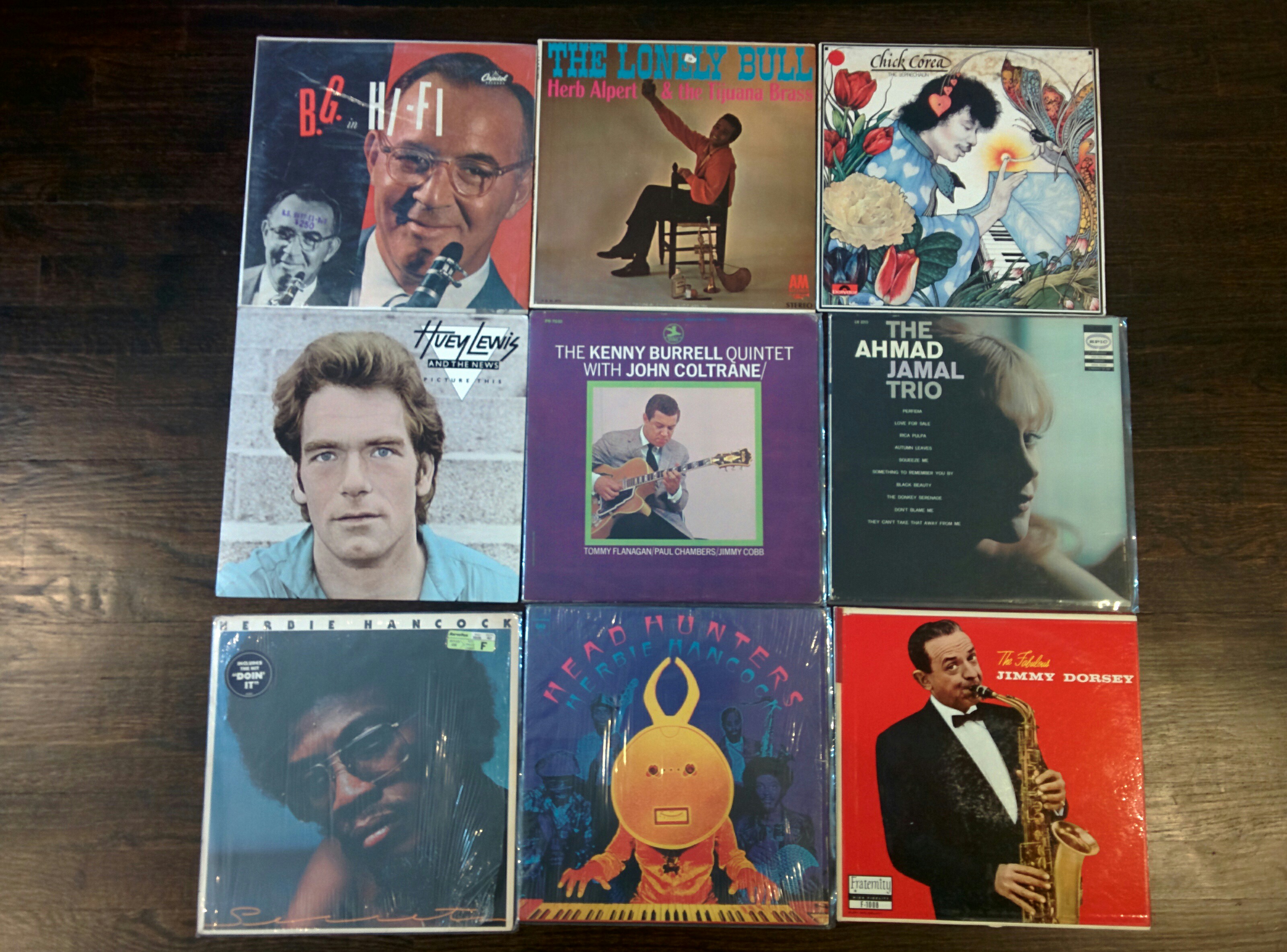 Well, not all of them were $1, the Burrell/Coltrane and Head Hunters weren't a dollar, and Head Hunters is a high demand LP. Head Hunters contains probably one of the most recognizable funk tunes of all time.
The Benny Goodman and the Jimmy Dorsey (there's actually also a Tommy Dorsey LP not in the picture) were just $1 ones that I added in because shipping was free.
Tijuana Brass is a great group, always reminds me of Casino Royale, and it's a great fall back for playing at Cinco de Mayo parties when the people there aren't hardcore enough for Larry Hernandez.
The Chick Corea "The Leprechaun" LP was a total steal, vinyl is in perfect condition but the jacket is a lttle worn. As hilarious as the jacket art is, the album is actually really awesome, especially if you're into synth.
"Sports" being obviously Huey Lewis' best album, but I think "Picture This" may be my second favorite. It's so corny but it's what I listened to in the 80's.
The Ahmad Jamal trio is also a great LP. Ahmad Jamal, being one of the best and most technically proficient Jazz pianists (most people know him for Ahmad's Blues, which was one of the tracks of Miles Davis' "Workin'" album). His best recordings (including the track on "Workin'") has always been in trios, mostly likely because of the freedom you get, allowing him to flex his technique.
Kenny Burrell's a pretty good guitarist, has a lot of recordings until his belt, but isn't one of those that really stand out as far as Jazz guitarists go. He's not a Joe Pass, Charlie Christian, Wes Montgomery, or Pat Martino, but his stuff is still very worth listening to, especially anything live.
The "Secrets" album was just one of those throw-ins because it was cheap. It's the 70's era of Herbie Hancock but it's not nearly as good as Head Hunters.
Filed under: Music
5/16/2014
---
HOME,CONTACT, TWITTER,