Been a while since I made a post about record purchases, but I think that's mainly that I haven't made any sort of purchase in bulk in a while. I've been stopping in local music stores and occasionally picking up what looks like a good deal, and it's always best to be able to examine the media in person before plunking down money for it (recently got a Traveling Wilbury's LP from the place around the corner), but sometimes you just have to turn to the internet to find stuff that's not going to be easy to find.

One such album is Cream's "Disraeli Gears".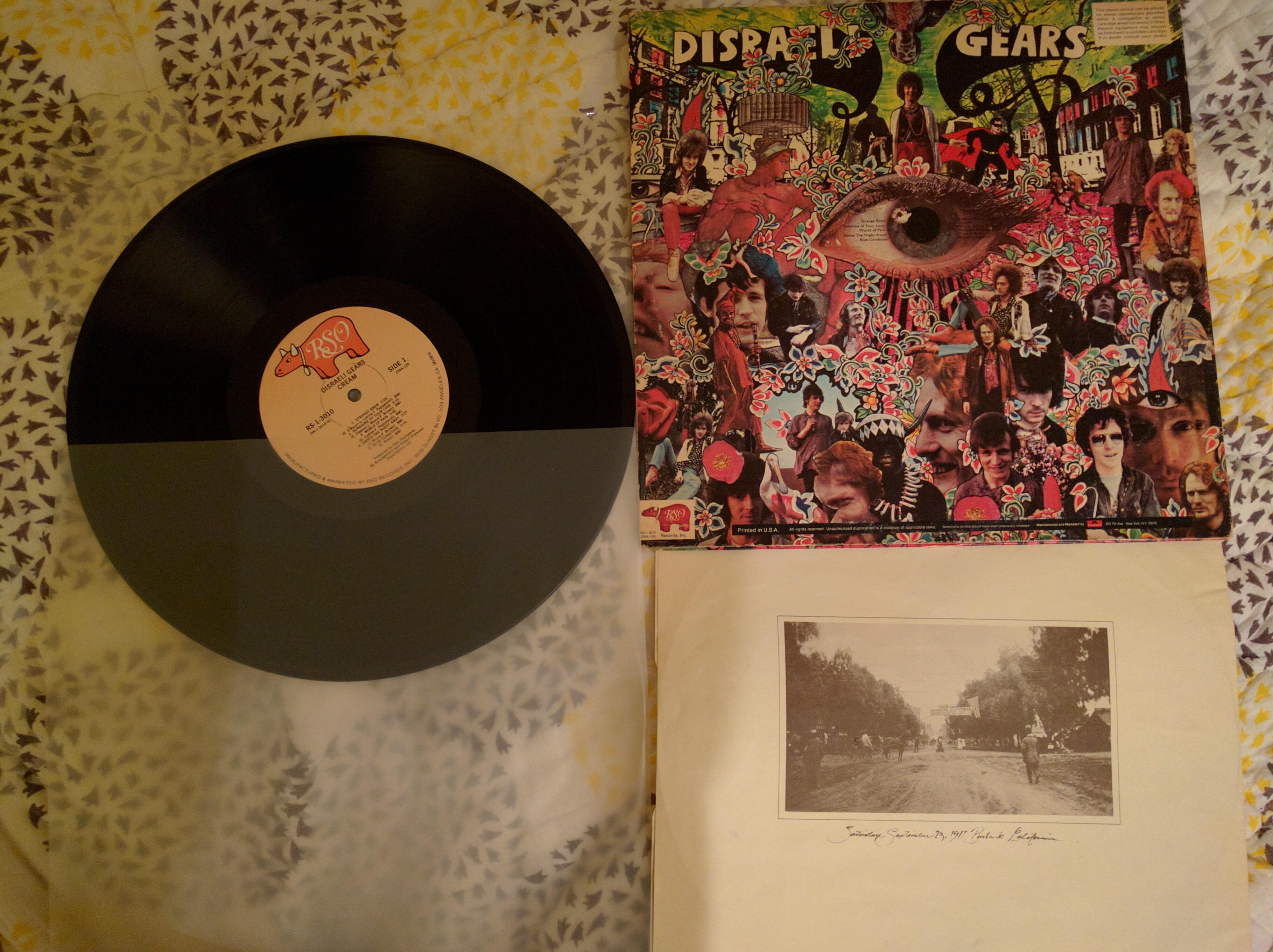 1977, RSO reissue, RS-1-3010 of Cream's second album from 1967. Disraeli Gears has some of Cream's most recognizable songs, like "Strange Brew" and "Sunshine of Your Love", which were both later released as singles. This album was actually recorded in the U.S. at Atlantic. Supposedly, the iconic riff from Sunshine of Your Love was inspired by Jimi Hendrix when Jack Bruce, Cream's bassist/lead vocals, went and saw one of his concerts. When you think about it, it makes sense.
All the records were graded at near mint and they looked pretty flawless. The E-bay seller that I bought these from included the original inner sleeve along with high quality protective sleeves to put the vinyl in, and this one was one of the albums with the origial inner sleeve.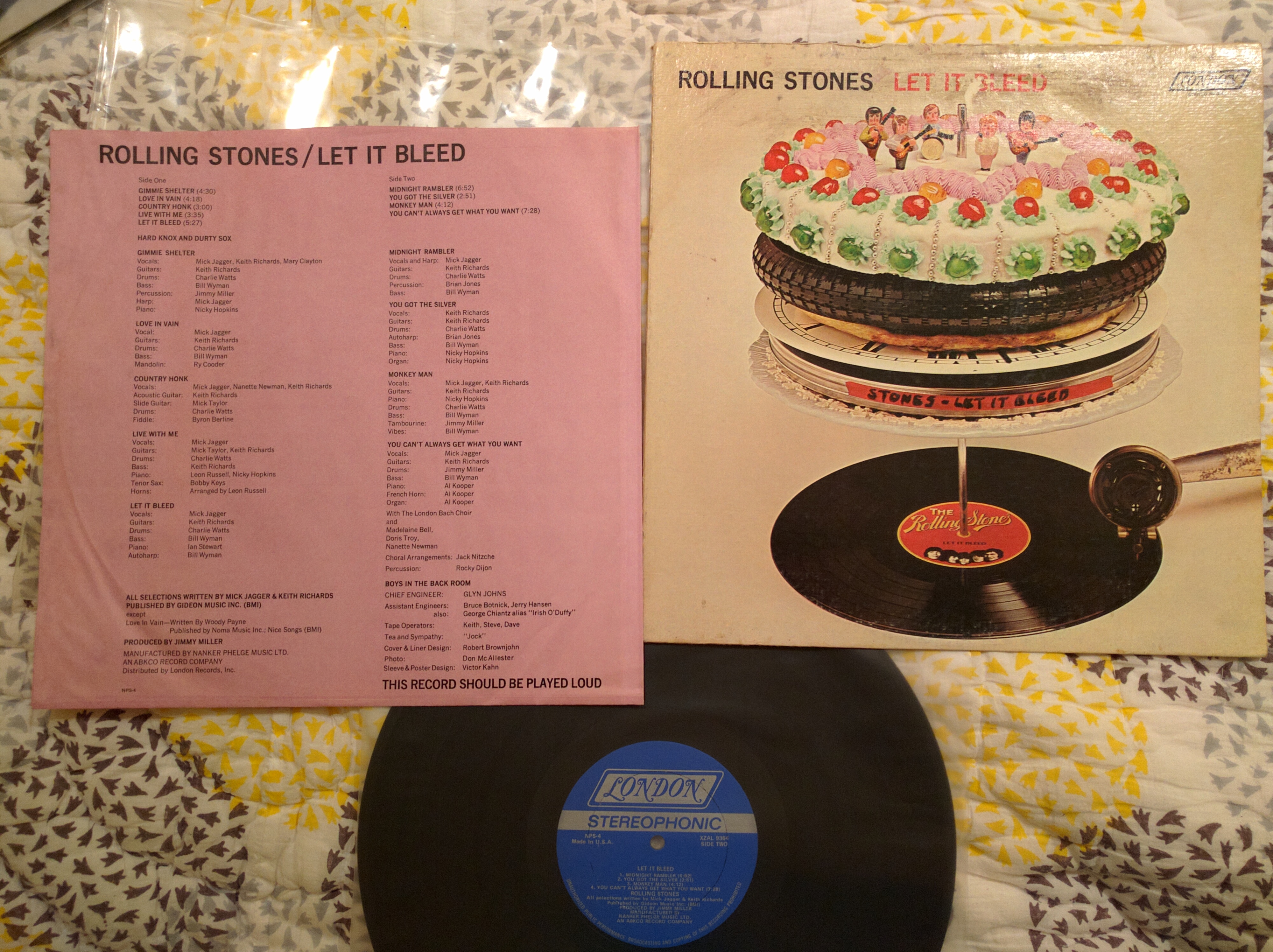 Next up was the Rolling Stones' "Let it Bleed". I was talking with my friend Rob who writes for an audio publication about the Stones not that long ago and he was telling me about some remasters that had come out and we had talked a little bit about this album. He's a much bigger fan than me but I'm familiar with this album and saw it on the seller's inventory for a really good price so decided to take it off his hands. A 1969 U.S. release by London Records NPS-4, not the first pressing NPS-4 but pressed by Bestway Products Inc. This also included the original inner sleeve, which was pink in this version with the notable THIS RECORD SHOULD BE PLAYED LOUD liner notes. There was some water damage on the jacket but the actual album looked brand new.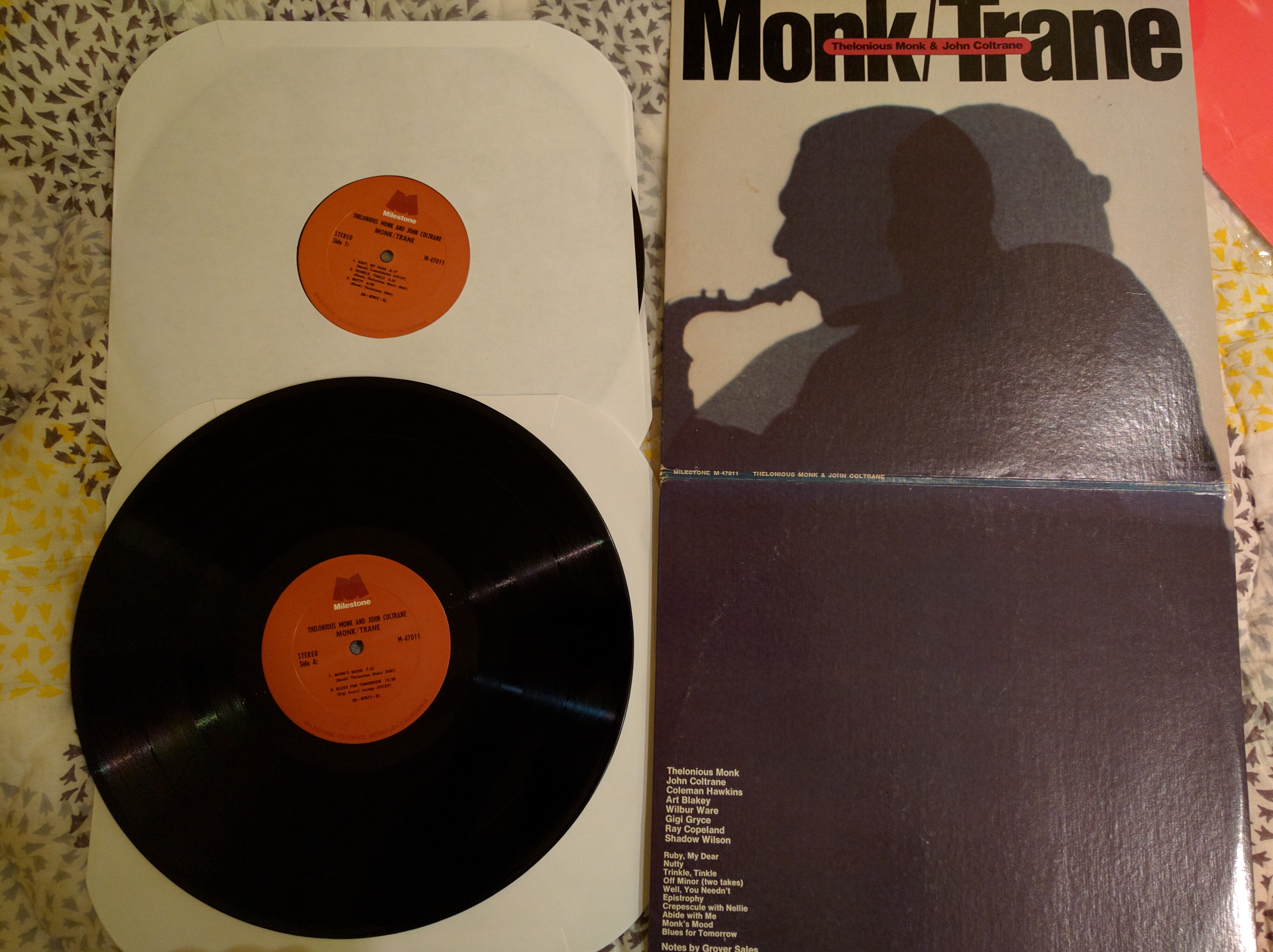 Then we have Thelonious Monk and John Coltrane 1973 vinyl-only release called "Monk/Trane". There were 2 U.S. pressings in 1973 and I believe this was the first of the two, by Milestone Records, M-47011. It's a small release of a 2 LP compilation that's mostly just the Monk and Coltrane releases from Jazzland and Riverside's previous releases of these 1957 recordings. These didn't appear to come with original inner sleeves, I couldn't find any pictures of them if they existed but the ones that were in the gatefold looked too new. The gatefold itself was kind of arranged so that it was viewed up and down instead of opened like a book, with liner notes inside.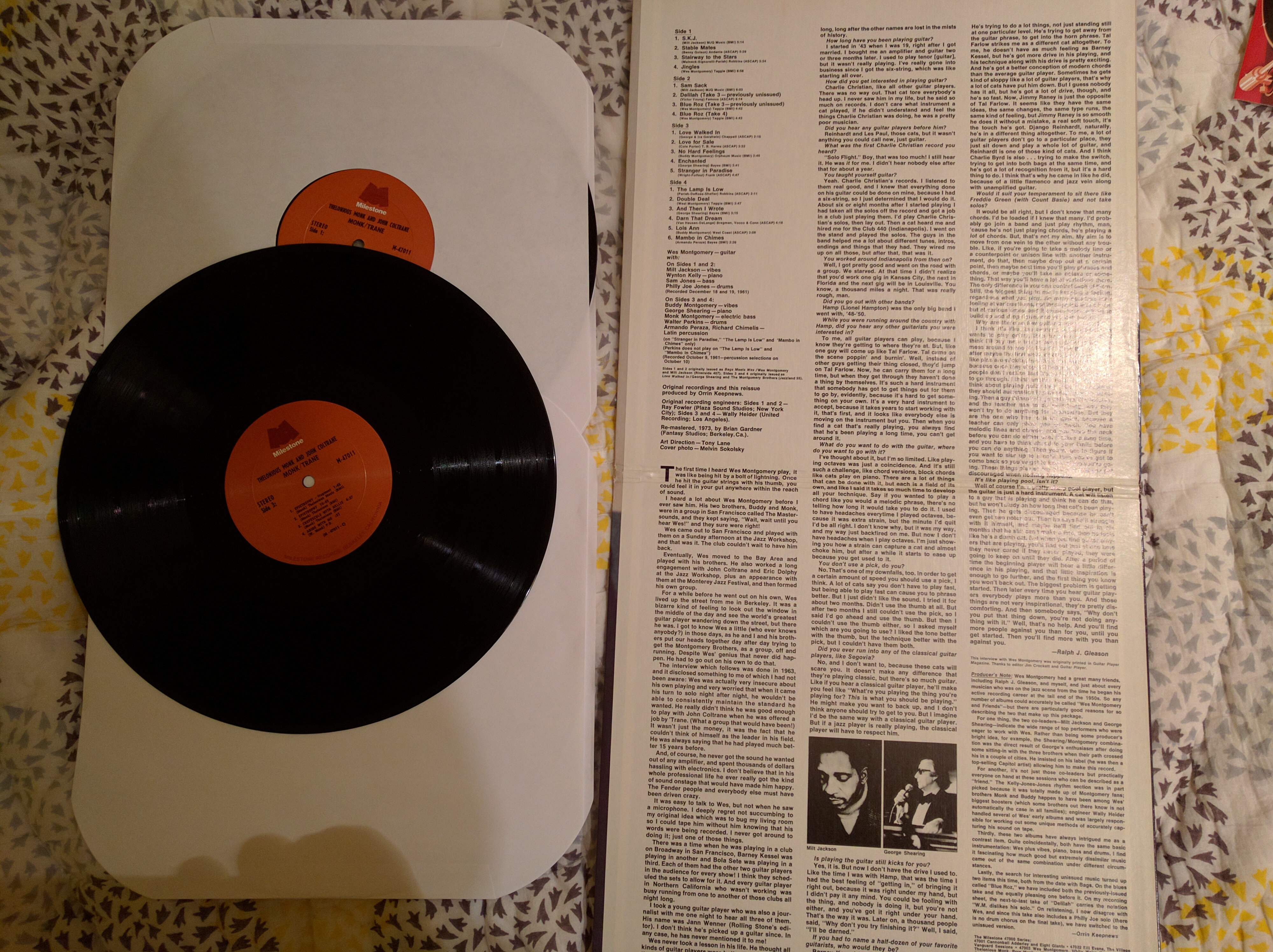 Now here's the interesting thing, if you look at the liner notes, they're for a completely different album by Wes Montegomery called "Wes and Friends", also by Milestone Records. The real liner notes are supposed to look like this and this. (Interestingly, while I was looking for images of the actual liner notes, I wandered onto this weird Japanese website of pictures of old stuff, in this instance a rusty hook, that happened to have the liner notes in the background). I'm not sure if the seller realized the album was a misprint, it wasn't mentioned at all in the listing.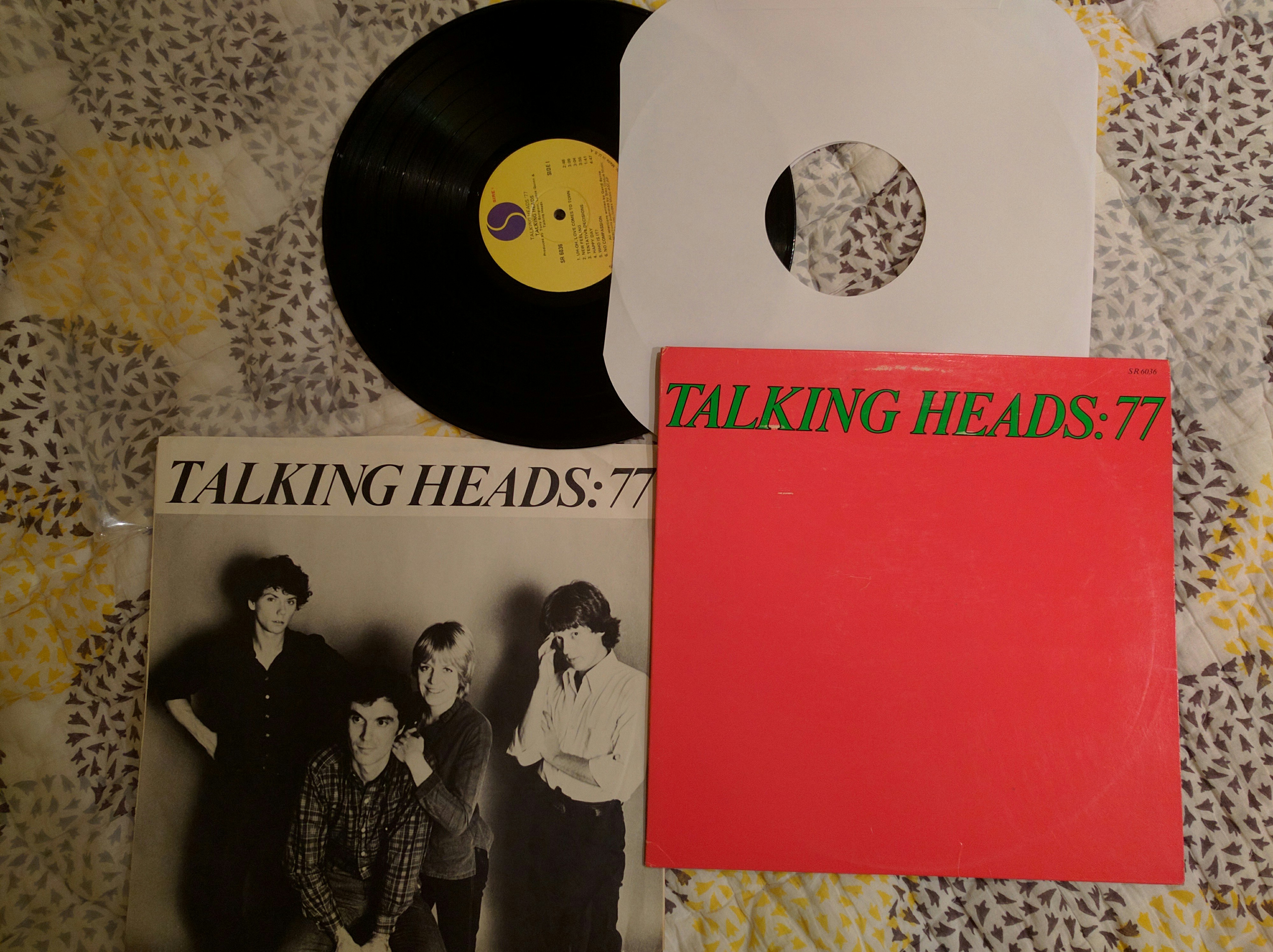 I made one more purchase from this seller because I asked Amy to look through the inventory to see if there was anything she wanted, free shipping etc. So she picked Talking Heads' 1977 debut album "77". This was actually a pretty decent deal, first pressing SR 6036 by Sire Records at the Capitol Records pressing plant. There was a second pressing in 1977 without the "Made in the U.S.A." on the labels and the "Sire" name under the logo instead of beside it. This album never appeared on vinyl again until a 2009 re-release by Record Store Day. The most notable song is probably "Psycho Killer", which I think was later released as a single, but the album itself wasn't a big hit. Maybe the staggered rhythm and David Byrne's demented sounding singing was too artsy for 1977.
I'm not a big Talking Heads fan but right away it struck me how amazing the fidelity of this recording was. The record sounded awesome with some pretty high production going into it. The sound and music was all pretty much new wave pop but the quality of it all was immediately noticeable, the vinyl itself looked like it was never played before.
Filed under: Music
2/8/2014
---
HOME,CONTACT, TWITTER,